Root Cause 
Women's Medicine
I don't heal my patients,
I teach them to heal themselves.
Free E-Book
Download Dr. Brighten's Post-Birth Control
Syndrome Detox Diet Quick Start Guide!
Balance hormones, improve your energy, and eliminate syptoms of PBCS.
We don't heal you.
We teach you how to heal yourself.
Rubus Health is an innovative women's medicine clinic with highly trained doctors, nutrition and lifestyle consultants.
Become a Patient Today!
Vital Detox Kit
The Vital Detox Kit contains a natural pea protein isolate to fuel natural detoxification pathways. It includes the nutrients needed to support and balance phase I and II metabolic pathways, high levels of antioxidants for safe detoxification and a comprehensive array of herbal hepatics and cholagogues to promote healthy liver function and elimination.
BUY NOW
Equilibrium Women's Hormone Support
Equilibrium supports classic herbal hormonal balancing in the form of vitex, polygonum and black cohosh, along with DIM and chrysin for protection and support of beneficial estrogen aromatase activity. Calcium-D-glucarate promotes the proper elimination of excess estrogens.
BUY NOW
Gut Rebuild
Gut Rebuild offers comprehensive support for optimum gastrointestinal health and function. The lining of the gut must have proper permeability and integrity so it can not only absorb nutrients, but also prevent toxins, allergens and microbes from gaining access to the blood stream. Maintaining gut health is the key to maintaining …
BUY NOW
Articles
I've had the pleasure of speaking with Chris Kresser on more than one occasion about the serious state our health care is in and the role of Functional Medicine. Chris and I share similar views about the need for allied providers, like nutrition consultants and health coaches, in supporting those with chronic disease and the necessity of returning to a …
Thyroid symptoms can range from weight gain to hair loss to depression, but these 7 thyroid symptoms are less recognized and often missed by many doctors. 7 Thyroid Symptoms Most People Don't Know About #1. You may not taste or smell things the same if you're hypothyroid.  Too little thyroid hormone can cause alterations to how we taste and smell, …
Looking for a bone broth recipe that is simple and effective at maintaining your health during winter months? My clinic's nutritionist, Erica, created this delicious bone broth recipe to support our patients as we prepare to go into winter months. Bone broth is a rich source of immune supporting minerals and vitamins, which is why many people choose to make …
What others say
After years of experiencing PMS, anxiety and terrible stomach aches, I finally have relief after only a couple of visits with Dr. Brighten. I am no longer feeling anxious and I can finally spend my weekends out with my friends, instead of home with a stomach ache.A.L.

Working with Dr. Brighten has helped me get my energy back and I've been able to lower my thyroid medication. I had been on thyroid hormones for many years and never really felt much better. She gave me a new prescription and helped me resolve a lot of the issues that were causing my hypothyroidismJ.K.

Dr. Brighten helped me relieve the terrible gas and bloating I had following the birth of my second child. She suspected SIBO and it turns out she was right! After years of working with nutritionists and medical doctors I finally had an answer and within one week of starting treatment all of the bloating was resolved. I can now play with my children and no longer have to worry if the food I eat will make me sick. Dr. Brighten gave me back my life and I am so grateful!K.R.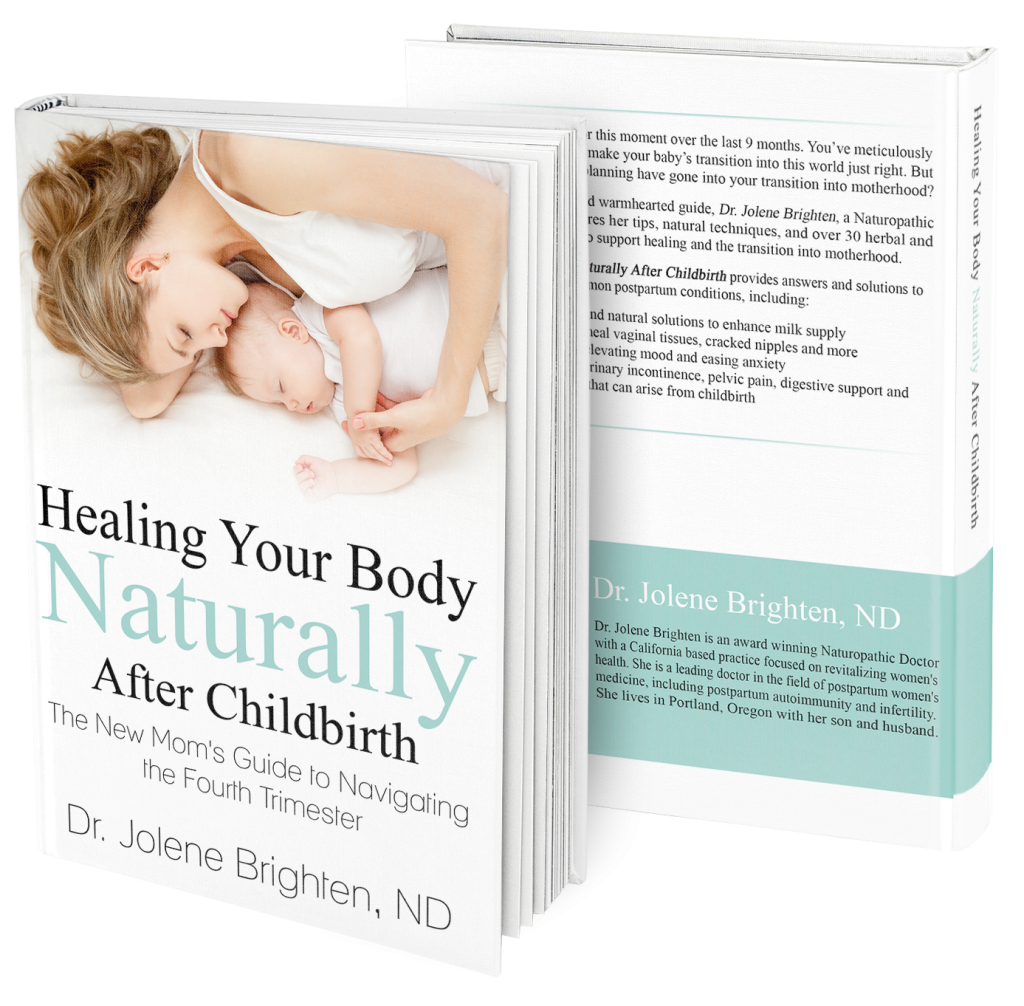 Healing Your Body Naturally
After Childbirth:
The New Mom's Guide to Navigating the Fourth Trimester
Available at