Root Cause 
Women's Medicine
I don't heal my patients,
I teach them to heal themselves.
---
Free E-Book
Download Dr. Brighten's Post-Birth Control
Syndrome Detox Diet Quick Start Guide!
Balance hormones, improve your energy, and eliminate syptoms of PBCS.
Schedule a Complimentary 10 Minute Consult with a Brighten Protocol™ Certified Health Coach
My coaches are trained to identify the root cause of hormone imbalances and offer solutions to get you closer to your health goals right away.
Dr. Brighten's 21 Day Hormone Reset
Elevate your energy, mood, and banish unwanted PMS symptoms naturally with a food based approach in Dr. Brighten's Hormone Revolution 21 Day Detox. This is a great starter course if you are looking to optimize hormone health.
Apply to Become a Patient 
To work with me, read the information below and complete your new patient application. Dr. Brighten requires all potential patients to submit an application prior to scheduling with the clinic.
Dr. Brighten Approved Supplements
The same supplements used by Dr. Brighten in her practice Designed to support women and maintain hormone health, these supplements use high quality, non-GMO, and gluten-free products. 
Vital Detox Kit
The Vital Detox Kit contains a natural pea protein isolate to fuel natural detoxification pathways. It includes the nutrients needed to support and balance phase I and II metabolic pathways, high levels of antioxidants for safe detoxification and a comprehensive array of herbal hepatics and cholagogues to promote healthy liver function and elimination.
BUY NOW
Equilibrium Women's Hormone Support
Equilibrium supports classic herbal hormonal balancing in the form of vitex, polygonum and black cohosh, along with DIM and chrysin for protection and support of beneficial estrogen aromatase activity. Calcium-D-glucarate promotes the proper elimination of excess estrogens.
BUY NOW
Gut Rebuild
Gut Rebuild offers comprehensive support for optimum gastrointestinal health and function. The lining of the gut must have proper permeability and integrity so it can not only absorb nutrients, but also prevent toxins, allergens and microbes from gaining access to the blood stream. Maintaining gut health is the key to maintaining …
BUY NOW
Articles
Readers often ask me to recommend the best supplements for PCOS, a metabolic disorder that can cause a whole lot of hormonal symptoms. Many women are looking for alternatives to the typical lineup of prescription drugs, which only mask the root cause rather than attack the concern head on. The most common treatment offered to women with PCOS is a …
I remember reaching my ten year anniversary with the pill and feeling a deep concern about my own health. Especially as it related to birth control pills and breast cancer. You see, many experts have concluded that the longer we are exposed to high dose estrogen the higher the risk of developing estrogen-related cancers.  We've known there is a risk …
Do you often deal with breast tenderness when it's that time of the month? Do you experience soreness or pain in a specific area of your breasts that keep you from enjoying going out or being active?  You're not alone. 50% of all women will experience breast pain at some point in their lives, according to the Breast Health Centre. Breast …
What others say
Dr. Brighten's work is so important for women's health. Whenever women with thyroid, menstrual or fertility issues come to work with Dr. Brighten they find have better periods, feel better, they have more energy and in many cases they are able to reverse their conditions. I highly recommend Dr. Brighten's work.Dr. Izabella Wentz, Thyroid Pharmacist, NYT Best Selling Author of Hashimoto's Protocol

In the growing trend toward natural therapies and treatments, there is no substitute for the authority of clinical experience. Dr. Jolene Brighten draws on this experience to light the path for an entire generation of women who want to make a truce with their bodies, heal them, own them, and love them. I count her in a small group of colleagues I trust and refer to as vanguard healers bridging the gap between the old and the new medicine.Dr. Kelly Brogan, NYT bestselling author of A Mind of Your Own

Dr. Jolene Brighten is a powerful force supporting women's health and well-being. In a world where oral contraceptives are doled out like candy, Dr. Brighten guides women through reestablishing hormonal balance and reclaiming their lives. This book will help countless women in great need.Maya Shetreat-Klein, MD, author of The Dirt Cure

If you are a woman and you are dealing with hormone issues, adrenal issues or a thyroid condition then this is your go-to doctor. Her clinic will help you restore your hormones, get your energy back and improve your period. I have been recommending my readers to her for many years because she gets the results that you are desiring.Dr. Mariza Snyder, Best Selling Author

Dr. Jolene Brighten and her women health clinics help women address their hormone imbalances and autoimmune disease by getting to the root cause.Dr. Trevor Cates, Spa Doctor, Best Selling Author

Dr. Brighten is someone I look to help me often with patients that I have questions about with women's health issues. I find that her wisdom and knowledge of women's health is unparalleled. I really value her expertise.Dr. Alejandra Carrsaco Functional Medicine MD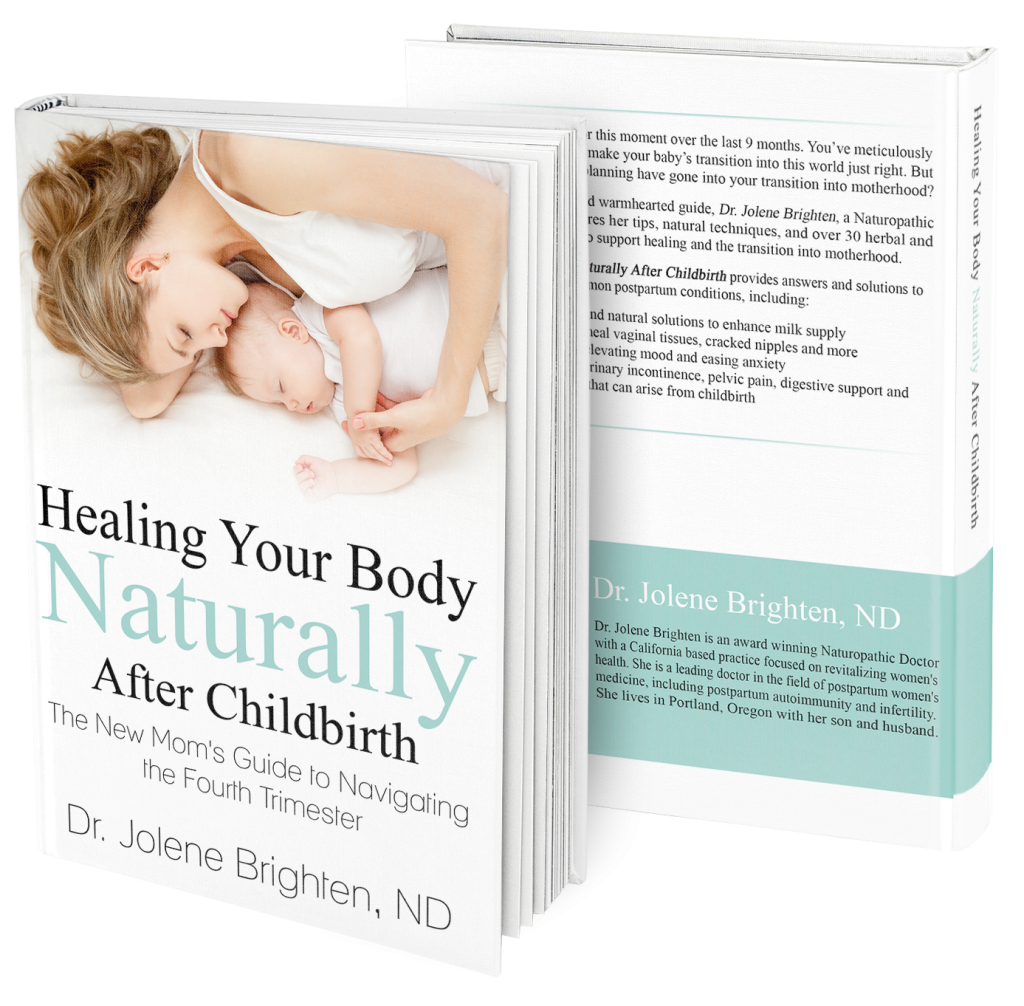 Healing Your Body Naturally
After Childbirth:
The New Mom's Guide to Navigating the Fourth Trimester
Available at