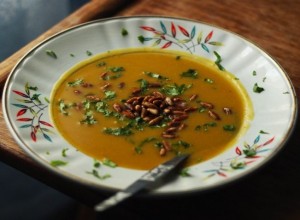 This creamy butternut squash soup is simple to make and is a delicious meal on its own or as a side dish. The roasting of the squash creates a rich flavor.
Ingredients:
8 cups peeled & cubed (1 inch) butternut squash. About 2 1/2 pounds.
1 1/2 teaspoons olive oil
1/2 teaspoon pepper
1/2-3/4 teaspoon salt
14 ounce chicken or vegetable broth, divided
4 cups warm milk, divided
1/4 cup pine nuts of walnuts
Instructions:
Preheat oven to 400 degrees
Combine squash, oil, 1/4 teaspoon salt, 1/4 teaspoon pepper on to a oiled baking dish.
Bake at 400 degrees for approximately 45 minutes. Squash should be tender.
Place half of squash, half of milk and half of broth into a blender. Blend until smooth.
Pour pureed mixture into a large saucepan.
Repeat steps 4 & 5 with the remaining squash, milk and broth.
Cook over medium heat until thoroughly heated (about 5 minutes). Do not boil.
Stir in remaining salt and pepper.
Serve your butternut squash soup in bowls with nuts sprinkled on top.