If you're the DIY type, you may really enjoy these homemade Healthy Holiday Gift Ideas gift ideas: 

Scented Epsom Salt
The magnesium in Epsom salts is not only soothing to sore muscles, but it also helps you feel relaxed overall. You can easily fill a mason jar with the salt, add a few drops of your favorite essential oil and put a cap on it. Add a bow and label and you've got yourself an inexpensive, hand made gift that will bring relaxation your favorite people. If you want to get really fancy, make Epsom Salt Bath Balls, but I'd avoid using food coloring. No need to add unnecessary chemicals.
Essential Oil Ideas:
Peppermint- invigorating
Lavender- relaxing
Rose- relaxing
Inspirational Salt Dough Ornaments
Even a simple "I Love You" stamped on a homemade ornament can make someone feel… well, loved. And each time they look at that ornament they are reminded of those feelings, leading to an elevated mood and a reason to be grateful. Make It Give It has an easy to follow recipe for ornament making. This is also a great activity to do with kids. Consider making a handprint or paw print (for those fur babies) ornament to give to close family and friends.
Cinnamon Honey Butter
Right away you may be thinking, "butter isn't healthy." Oh, but it is. A grass fed, organic stick of butter is packed with butyric acid, which keeps the cells in your colon healthy. Ok, maybe more than you wanted to know. But also consider that honey is antimicrobial and cinnamon has been shown to be beneficial in regulating blood sugar. Convinced? If so, proceed to this recipe, but feel free to ditch the powdered sugar. After all, you've got the honey. This mommy blogger will even guide you in making your gift look beautiful!
Sugar Spa Scrub
Take all that sugar you are avoiding putting in your mouth and make a luxurious body scrub out of it. Another gift you can pack in a mason jar and simply dress up. And might I mention that mason jars are reusable. Awesome. Exfoliating the skin is great for keeping up a nice glow through the winter months, but the action of scrubbing also improves circulation. Here are some simple recipe ideas.
Lemon Hand Scrub:
Combine the following ingredients in a bowl.
1 Cup White Sugar
1/2 Cup Almond Oil
1/2 tsp Vitamin E Oil
10 Drops Lemon Essential Oil
Chocolate Mint Scrub:
Combine the following ingredients in a bowl.
1 Cup White Sugar
2 Tablespoons cocoa powder
1/2 Cup Almond Oil
1/2 tsp Vitamin E Oil
10 Drops Peppermint Essential Oil
Get creative. You can use brown sugar, make lip scrubs and play with different delicious scent combinations. Here are more recipes from Tip Junkie. 
Note: I like to use almond oil because it keeps a bit longer than something like olive oil. However, if you think it'll get used in no time go for an olive oil substitute. The vitamin E is necessary to keep the oil from going rancid and it is incredibly nourishing for the skin.
Healthy Cooking Basket
Grab a bowl or colander and fill it with healthy cooking items. A gift like this will not only encourage your friends and family to try making some healthy substitutions, but will also give them the tools to do so. Consider tossing some of these items in the basket.
Coconut oil
Pink Himalayan Salt
Almond or coconut flour
Carob chips
Wooden spoons
Gourmet spices & herbs- cinnamon, turmeric, cardamom, ginger, mint, etc
Chia seeds
Gratitude Journal
Gratitude or journaling in general can have profound effects on ones psyche. I made these one year using a Japanese book binding style like found in this video and they were a big hit.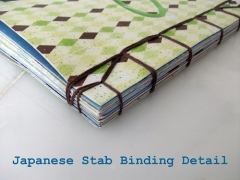 Honestly, this style can be a bit time consuming. If you want something simpler, buy a premade journal and cover with Washi tape. This tutorial from Design Love Fest is incredibly simple and straight forward.
Stocking Stuffer Ideas
What are your favorite Healthy Holiday Gift Ideas? Share with me in the comments below.