This recipe is very simple to make & it's good for you. Pumpkin is loaded with vitamins and the protein in this recipe helps keep your blood sugar balanced, which is definitely a bonus first thing in the morning.
I must admit that I set out to make a dessert when I developed this recipe. I wanted something low in sugar, but with a great pumpkin flavor. The good news is that this recipe can double as a breakfast or a dessert because it is both delicious & high in protein. And it's grain free!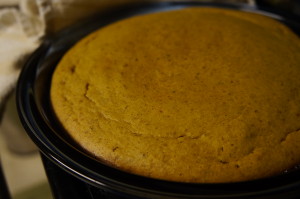 Ingredients:
1/2 cup organic pumpkin puree (not pie filling)
1/4 cup honey
1/2 cup almond butter
1/2 cup almond meal
2 eggs
2 teaspoons pumpkin pie spice
1 teaspoon vanilla extract
1/4 teaspoon sea salt
1/2 teaspoon baking soda
Directions:
Preheat oven to 350 F. Grease an 8×8 square dish for bars or an 8 inch diameter pie dish for dessert slices generously with coconut oil.
Mix pumpkin puree, honey & almond butter until smooth. Beat eggs & add with remaining ingredients. Mix until smooth.
Bake at 350 for 20-25 minutes or until edges are golden & center is firm.
Cool completely and serve. You can experiment with toppings, like pumpkin seeds or whipped coconut cream (I like this recipe.)
Enjoy!