Bay Area Farmer's Markets Help You Shop Local & Eat Seasonal!
A trip to the local Farmers Market is among the highlights of my weekend. I love the beautiful display of food, getting to know the local farmers, enjoying artisan food and sipping on a delicious cup of fresh roasted coffee.
By purchasing your food from a farmer's market you can ensure you are enjoying the freshest foods of the season. That translates to more variety and a better source of nutrients.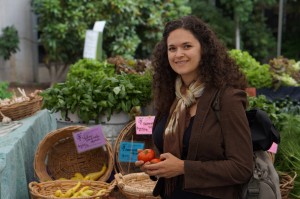 Bay Area Farmer's Markets
This list is by no means comprehensive, but it is a compilation of some of the weekend farmer's markets in the Bay Area that are offered year round. There are also weekday markets so be sure to look into where you might be able to pick up the best of the season near your work or neighborhood.
Saturday:
Alameda: 9-1pm at Haight Ave & Webster St
Berkeley: 10-3pm at Center St & MLK
El Cerrito: 9-1pm at San Pablo & Fairmount
Oakland Grand Lake: 9-2pm at Grand Ave & Lake Park Way
San Francisco- Alemany: 6-3pm at 100 Alemany Blvd
San Francisco- Ferry Plaza: 8-2pm at 1 Ferry Building
San Francisco- Filmore: 9-1pm at O'Farrell & Filmore Center Plaza
San Francisco- Noe Valley: 8-1pm at 3861 24th St
Sunday:
Oakland- Jack London Square: 9-2pm at 34th Ave & 12th St
Oakland- Montclair Village: 9-1pm at Moraga & La Salle
Oakland- Temescal: 9-1pm at 5300 Claremont Ave (DMV)
San Francisco- Inner Sunset: 9-1pm at 8th Ave (between Judah & Irving St)